Property Owners
Property Owner have comprehensive tools to manage their new-build, self-build or renovation projects. They can capture ideas in design books, create professional 2D/3D models and collaborate with architects and designers to source the best design before selecting construction professionals to make their projects a reality. Managing projects end-to-end is easy with step-by-step guides, checklists and an automated dashboard that gives an up-to-date status of the activities, progress and spend against budget.
Create a Design Book for each of your projects,
Simply and easily capture images, plans and notes of your existing property, together with inspirational ideas to create your own design.
Don't forget to capture products and ideas while you are out shopping, particularly if you aren't planning to start your project for a few months
You can also put a list together outlining the type of finish you want to see including specific products as this will help to get an accurate quote when submitting to professionals.
Model your ideas in 2D/3D
Bring your ideas to life with our simple to use 2D/3D design tools.
Recreate and model your home, room or office and take a virtual tour of your new setting before deciding on the final layout
Create your home, add rooms, floors and outside spaces
Decorate the walls and floors in any colour
Furnish rooms from a catalogue of over 3,000 products
Take a snapshot in HD to see a near real-life view.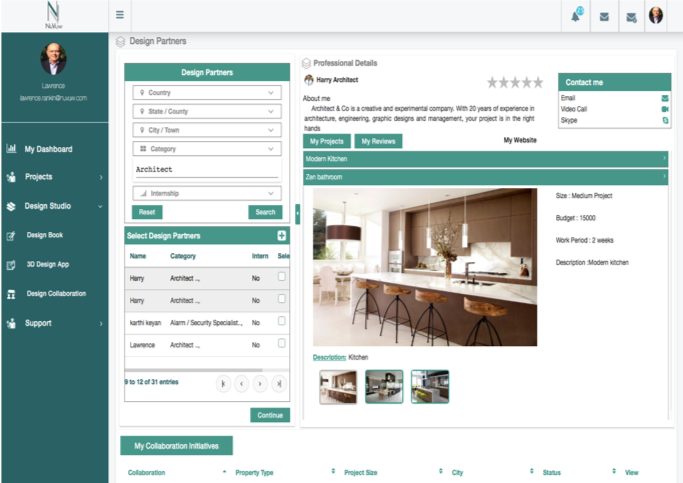 Collaborate with architects and designers
If you want the best possible design or you just need professional advise, ask a professional for some inspiration to get you moving forward.
Connect with architects, interior designers to enhance your ideas
Get quotes for the design phase or full project services
Source the best designs for you and your budget
Review and select design specialists in one place
Award the design phase to your architects and designers
When you are ready to turn your ideas into a reality, create your project in five easy steps.
1. Describe your project including budget information (if known)
2. Set deadlines for responses and planned project start dates
3. Select your project specific plan from our templates
4. Refine the images and plans from your Design Books
5. Issues requests for quotes/tenders and ultimately award the project to your chosen professional or Architect
Select your professional/contractor
You can get a list of professionals in a single place, view their public profile page and click through to their own websites to learn more.
Search and shortlist professionals in your area to quote for your project
Review their profile, previous projects, ratings and any feedback
Submit to selected professionals to provide accurate quotes
The professionals will confirm their interest and respond by the deadline.
Get a 360' dashboard view or your project(s) for easier tracking and management.
Traffic light system to identify real-time project status
View progress, budget and spend at the same time
Drill-down to view any specific project, activity or task
Review milestones with a calendar of activities and create "To-Do" lists
Get notifications and alerts by project